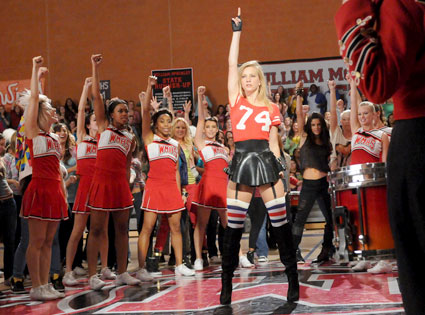 If you watch only one television show next week, let it be Glee.
What? What's that you say? You used to watch but it fell off your DVR schedule? Or you never really thought it was your thing?
Well then, you especially better watch. 'Cause I just got my hands on a screener for this Tuesday's episode (through supersecret channels…Shhhh) and can tell you without any hesitation: It is arguably the best episode of Glee, not just this season but in the history of the series.
Yeah, you heard me.
Why? Here's the scoop...
Glee has completely found its heart again. And then some.
As you fans know, Ryan Murphy, Brad Falchuk and the cast has been telling us for months that Glee is returning to its roots, focusing on the core characters instead of guest stars, and getting back to the emotional crux that made many of us fall in love with the show in the first place.
Well, get ready to fall again. This Tuesday's episode, "Asian F," not only presents one of the best storylines for fan-favorite underdog character Mike Chang (Harry Shum Jr.), it also presents the best work we've seen yet from Amber Riley, Heather Morris, Lea Michele, Matthew Morrison and Jayma Mays. And even better, some of you fans will be elated to hear that Mr. Schuester and Rachel are once again likable and relatable. (So long, cocky manwhore and grating diva!)
The storylines are tight, grounded, completely believable and emotionally gripping. The musical numbers are mind-blowingly good and introduced through organic, and yet unexpected, ways.
Oh yeah, and you will cry.
Without giving too much away, here's a little scoop on what you can expect from Tuesday's Glee:
An awesome Heather Morris number: "Run the World (Girls)." (You may feel an uncontrollable urge to get up and dance.)
Harry Shum Jr.'s first solo. It'll blow you away! He is amazing in this episode, and proves himself fully worthy as a full-fledged series regular. Also, there's a scene with his mom that will make you cry.
The best Amber Riley performance ever, as she seeks to prove she's a lead in her West Side Story audition.
A "Maria-Off" between Rachel and Mercedes that "we'll be talking about forever," according to Kurt.
My favorite-ever Will and Emma scene toward the end of the episode. (Bring Kleenex.) It will bring you to your knees.
A "supremacist" storyline that will make you laugh…then cry.
A nod to The Glee Project. (There are auditions for the school play, you know!)
A Mercedes twist that changes the course of the season.
Coach Bieste perhaps sums up this episode best: Prepare to be "emotionally pancaked."
Can you tell I didn't hate it? Nahhh...
Enjoy.
source:
eonline.com