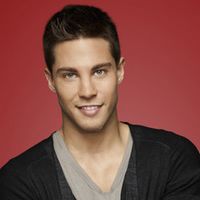 Q) How was the character of Brody Weston originally described to you?
A) In the audition process, his name wasn't released until the studio test. I auditioned with Jesse St. James material and there was a Finn scene in there, as well. Since Jesse St. James and Finn are completely different characters, they just wanted to get a feel who each of us were and where we fit in. I didn't know it was Brody Weston until the studio audition, which was about three auditions in. He was described basically as an upperclassman at NYADA who is charming and takes a liking to Rachel.
Q) How is the character introduced on the show?
A) It's Rachel's first day and he's the first guy that she meets at the college. I can't give away too much, but they meet in pretty awkward circumstances. Not your usual meet and greet, but the situation that they meet in opens the relationship up as friends since it's kind of awkward - especially for her. I think from the beginning they kind of have this connection and he definitely makes her comfortable.
Q) Did you have immediate chemistry when you began working with Lea Michele or did it take a bit of time to develop?
A) With all auditions and people that you meet for two seconds and then you act with them, naturally it does take a bit of time. I think with the screen test with Lea, I definitely feel like there was some chemistry. The thing is, I met her (literally) five seconds before we did the take. We said, "Hello" and then went right into it. So, there wasn't really time to get to know who she was. There was definitely some instant chemistry, but I would say that now getting to know her, seeing how confident and passionate she is about her work and welcoming to someone like me on the set - the chemistry is definitely progressing as we go on.
Q) What kind of singing and dancing background to you have?
A) In terms of singing, I started when I was about eighteen years old. When I finished school, I joined a cover band that toured around Australia. We did bars and clubs. Then, I started writing original stuff. After a couple years of that, I entered "Australian Idol" in 2006, where I ended up coming in third in the competition. From then, I joined a label and released an album, which didn't do too well. It was kind of a label album that was really generic. Then, that's how I got into acting. I had a name for myself in Australia and one of the soap operas there asked me to join the cast. In terms of dancing, I did about a year and a half of hip-hop and a little bit of jazz when I was still at school. I don't have much of a dancing background, but definitely singing has been a big part of my life. It was my first passion.
Q) What have you found challenging about your role on "Glee?"
A) It's definitely fitting in to the level of characters that are on the show. Anyone who watches the show knows that a lot of the cast members have done Broadway before, they've done dancing and been on "Glee" for a while. Going into a show like that, even if they are trained as a singer or dancer, it's intimidating. Especially auditioning for someone like Ryan Murphy who creates such amazing television programs, it is intimidating in itself. I think I'm pretty similar to Brody. I've had a pretty similar upbringing and background. He's from a small town and I think he's just a normal guy that grew up around music. I think I am pretty similar in that respect. It's not too much of a challenge for me, but yet I'm still finding out who he is. The biggest challenge is coming into a show where the level of talent is ridiculous and having to keep up with that.
Q) How many episodes will you be in this season?
A) As of now, I don't know. I hope it will be all season. I heard they like what I am doing and they like the chemistry so far between me and Lea.
Q) What kind of fan reaction have you gotten to joining the show?
A) Well, there are mixed reviews. I keep up with it on Twitter. There are a couple of Finchel shippers that have been hearing rumors of breaking Rachel and Finn up. They are not too happy. If the outcome has to be that she does break up with him, I'm sure I am going to get a massive backlash from the fans. Then again, you can't please everyone. There are definitely some really supportive fans. Even the Finchel fans have been massively supportive. I think anyone who watches the show has a passion for "Glee." I think they are going to enjoy anyone who is new and will welcome them with open arms (hopefully). The most insane reaction we had was when Lea and I went to New York and there were literally hundreds of fans watching us shoot. There were a number of paparazzi, too, which was crazy.
Q) A number of the Finchel fans were surprised you had mentioned not having seen Season Three of "Glee" and upset over some comments you had made about breaking up Finchel. How does that make you feel?
A) I'm an actor and, for me, it's my job. I come into every role with an open mind. I think for them it's not something they should take personally. What I meant by that was, for me, it would be interesting to mix things up. I love playing characters that create layers within the show. If there is a situation that has been going on...A lot of times I played the role that is very generic, plain and run of the mill. I heard rumors of the role potentially breaking up Finn and Rachel. I'm happy with it being both ways - I'm happy with them getting back together. I am happy with them shaking the show up a little bit. For me, it's just work. I enjoy taking on whatever role I can. In terms of me watching Season Three, I never really watched the show until I got the DVD set at Sundance Film Festival. My girlfriend and I, for weeks, sat down and watched two or three episodes a day. We loved it! I've got it coming on Netflix at the moment, too. They shouldn't worry about it because I am going to be watching it for the next few weeks.
Q) We know there is a Britney Spears themed episode coming up. Are there any other song and dance numbers you could tease us about?
A) Well, I am actually not sure how much I can say. The song that I am doing is an artist that I never thought I'd be covering. Something within her name relates to a type of bird...that's all I can give out. Fans have to work that out!
Q) Will you be live tweeting throughout the episodes?
A) I am going to be enjoying the episode, myself. It's a big moment for my career that I think I am just going to sit back with a couple of friends and enjoy the show.
Q) We know this season will feature guest stars Kate Hudson and Sarah Jessica Parker. Are there any upcoming guest stars you can share?
A) I don't know who else is going to be on the show. I am just excited about Kate and Sarah Jessica at the moment. If anyone else is looking for more they shouldn't be because Kate and Sarah Jessica fill that role pretty good. As far as I know, I am just keeping up with the episodes that I have read and I don't know anything other than that.
Q) You have gotten a lot of attention from joining the cast of "Glee." How are you dealing with your new found fame?
A) I've had a good background. During "Australian Idol" I had a good run of press and there was quite a big fanbase behind the show and my name. I am used to doing red carpets, photo shoots and in-store signings. I think that was great practice. That was a very small percentage of what is going to be going on during "Glee," but it was definitely good practice for me. It's very exciting!
Q) What else would you like to share with fans about your character, Brody Weston?
A) Look, I am still getting to know who he is. I'm excited to see him progress as a character. They are just going to have to tune in and watch the show.
Q) What have been some of your favorite moments from filming "Glee" so far?
A) I think getting back into the studio and recording again has been a highlight. I have been out of practice with music for quite a few years getting stuck in with the acting. It's good to get back to my roots and back into the studio. Just being surrounded by a cast of the most amazing talent is very inspiring. Also, getting to work with some of the most creative directors that I have ever worked with is a blessing.
Q) What would you like to say to everyone who is a fan and supporter of your work?
A) I would love to say thank you for supporting me before you have even seen my character and heard what he is about. Hopefully, I can do all the expectations that you have for him justice. I am going to try my best to entertain and create smiles for everyone. Thank you for the support!