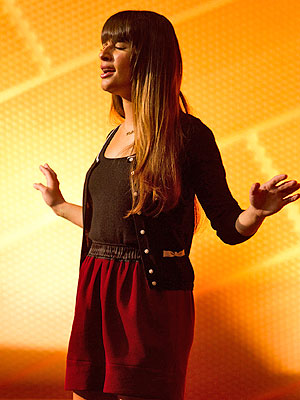 Lea Michele promised us a Glee makeover — and a Glee makeover we've seen!
The actress, who plays college freshman Rachel Berry on the show, says her character has had a sexy style upgrade this year, and she owes it all toGlee creator Ryan Murphy.
"It was Ryan's idea to do this shift for Rachel, having her become a little more grown up, a little more New York," Michele told PEOPLE recentlywhile working with Candie's. "I basically pick out the outfits with our costume designer, and we take all of the photos to Ryan to approve. It's really collaborative."
But it goes beyond the costumes: Rachel's hair and makeup are more major, too, again, thanks to Murphy.
"He's so involved with everything — what shoes I wear, what kind of eyeliner I put on," she says. "I don't know how he does it. He has so many shows, but still finds the time to help with this."
And though we've been loving Rachel's sensual smoky eyes this season, Michele says that's probably her least favorite part of her character's new look. "I've been trying to tone that down a little bit," she admits. "It's a b*tch to take off at night!" Tell us: Are you loving Rachel Berry's revamped look? Or did you prefer her high school makeup and clothes?