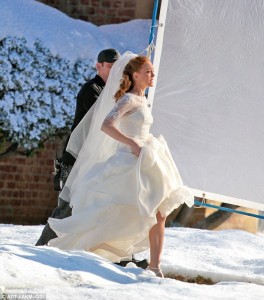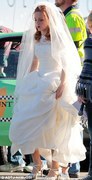 Their romance was more a slow burn than a bright spark, going through several false starts before finally getting together.
But now it seems Glee's Emma Pillsbury will finally tie the knot with teacher Will Schuester.
Actress Jayma Mays, who plays the OCD inflicted school guidance counsellor, stepped out on the Hollywood set of the show looking stunning in an ornate bridal gown and veil on Monday.
And despite the warm Los Angeles temperatures, snow covered the ground for a magical wintry scene.
Her dress featured suitable lacy 'sleeves' for the 'cold' climate, and she wore her red hair in loose curls with a mid length veil placed on top of her head.
The 33-year-old actress held her gown above her white strappy sandals as she strolled through the set, but there was no sign of groom Matthew, who plays the Glee club director.
Last year, the actress said she envisioned a basic wedding dress for her character's big day.
'Emma is a very simple girl, so it has to be clean, and it needs to be simple,' she told People. 'This will be the fourth or fifth wedding dress that she's worn on the show.'
And the star was clearly looking forward to the occasion.
'I'm very excited for "Wemma," Will and Emma, to be together,' she declared. 'It's been three seasons, so enough is enough!'
The actress, who married actor Adam Campbell back in 2007, said that she was looking forward to picking out Emma's bridal gown.
'Nothing will ever top picking your own wedding dress, but there is something exciting about picking one out for a character,' she said. 'You can be a little bit sillier, or a little bit crazier than you would be in real life.'
However, her co-star Matthew had different ideas about the ceremony, saying he thought the nuptials would be very clean due to Emma's OCD.
'I'm picturing some large, inflatable bubble that everyone can go into and keep the bad air out,' he laughed.